Looking for an easy yet sophisticated pattern for your next project? Well you're in the right place! This crochet shawl wrap scarf is elegant and sophisticated. Wow yourself or a loved one with this modern take on the traditional granny stitch, worked in stripes with a simple yet defined structure that will drape over you like butter. This piece pairs perfectly with any outfit. Wear this Midnight Dream as a wrap, shawl or an oversized scarf. The versatility of style and function is the perfect combination. Add dimension and a little fantasy to your wardrobe!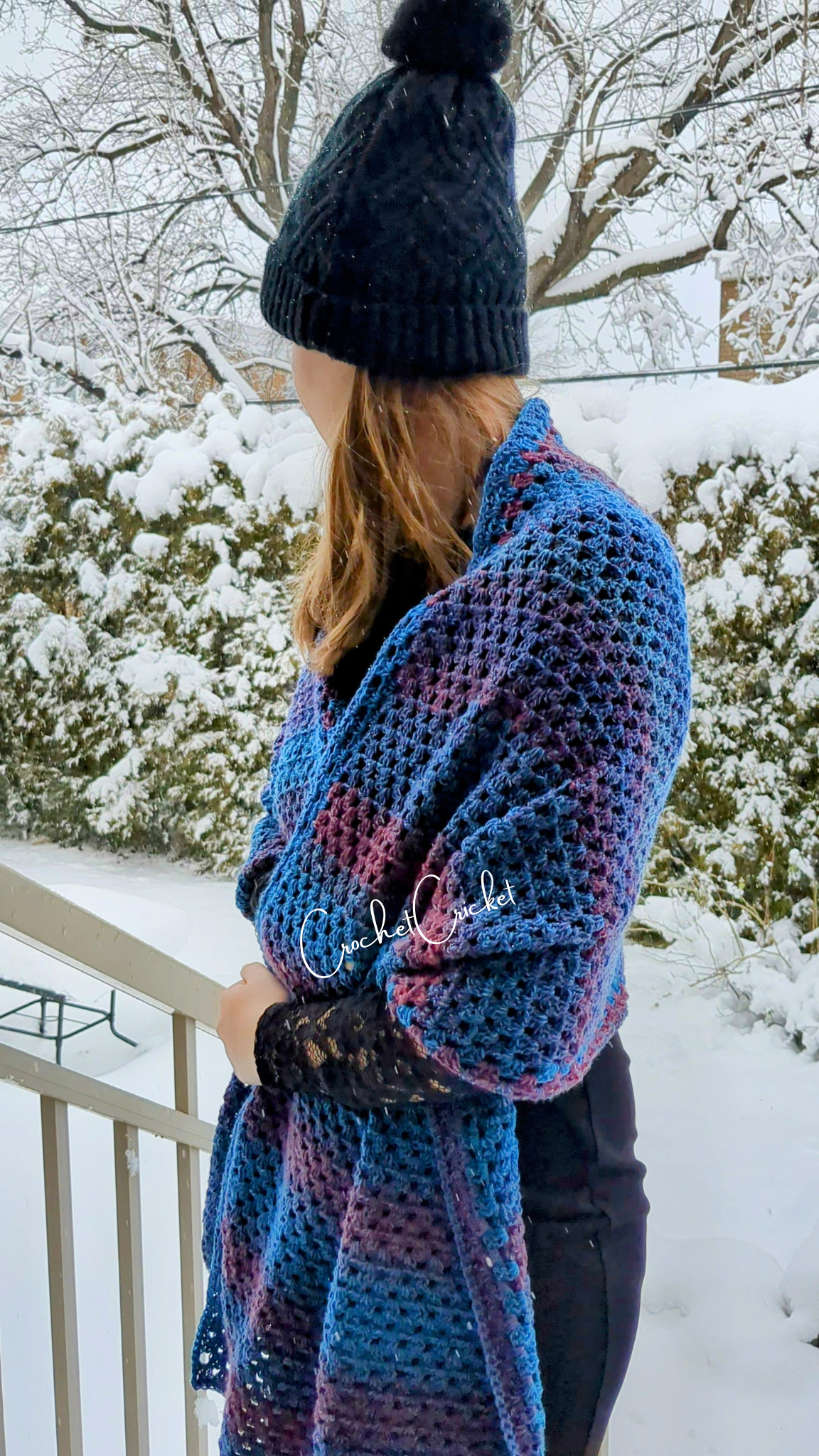 Finished Product Measurements
This Shawl Wrap Scarf measures 65″ inches long including a border stitch of 1.5″ around.
The starting chain of the project measures 17″ inches wide once the granny stripe is worked and has a 1.5″ inch border around making the total width of the project 20″ inches wide.
Gauge
4″ = 5.5 granny clusters or 17 double crochet stitches
We will only take the gauge of the width of the project. For the length you can stop at your desired measurement.
Make a 4″ sample of at least 5 rows to check your gauge. Measure the amount of stitches on the 3rd row in your sample. If you have more stitches than the gauge, go up a hook size, if you have less, go down a hook size.
Materials
Any yarn and hook combination can be used to create the Midnight Dream Shawl Wrap Scarf. However, to get the same results as in the pattern you will need to use Dream Color #16 by hobbii with a 5mm hook or a hook that gives you the same gauge as the pattern suggests above.
Hook
5mm aluminum hook
Yarn
Dream Color Yarn #16 by hobbii
4 Balls – about 350 grams
Yarn and Hook Substitutions*
This pattern can easily be adapted to be used with any hook and yarn combination. If a different hook is used be sure to do some samples. Use a hook that is larger than the recommended hook size on the package when using a different yarn than what is recommended. The drape of the project is what is most important. You want the fabric created to move and flow. If your hook is too small the fabric created will be too dense.
You will just need to adjust your starting chain. In order to figure out what your starting chain should be with a different hook and yarn, make a small 4 inch sample of at least 5 rows. Make sure that the fabric created has the drape that you want and is not too stiff. Once you have created the sample with the desired drape, see how many double crochet stitches you used in your granny clusters on your 3rd row. Divide this number by 4 to find the stitch count per inch. Then, measure the width of your back that you want to cover MINUS the 3″ inches of border stitching. Take this measurement and multiply it by the stitch count per inch making sure that you take the number closest to a multiple of 3. You now have the number of chains needed in your starting chain and you will just need to add 1 additional stitch to begin.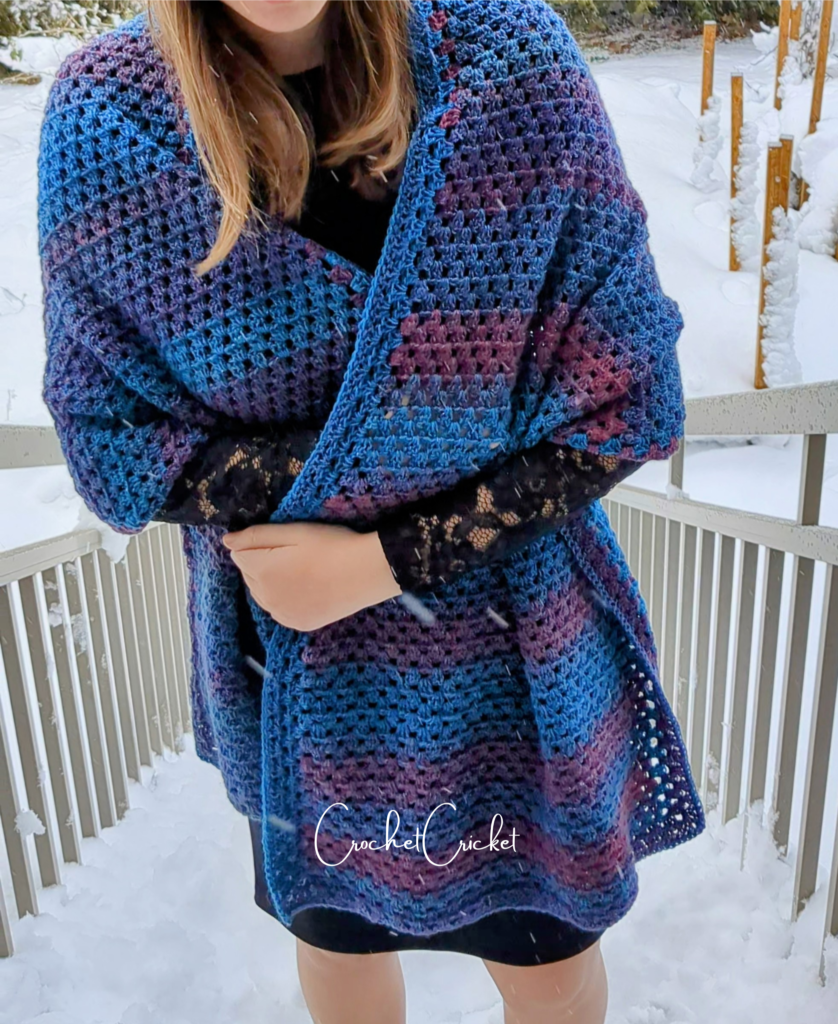 Construction Review
The Midnight Dream Shawl Wrap Scarf is constructed with a basic granny cluster stitch worked in rows instead of in the round like a traditional granny square. This means you will begin by creating a chain for the width of your project minus the 1.5″ border around. This starting chain will be the foundation of your project. Working in rows, you will create a reversible granny stripe pattern that is elegant and timeless. Once the body of the piece is created you will work around the project in a granny stripe border, creating a contrasting stripe in the opposite direction around. This simple construction is a great project to work on while listening to music or your favorite show, without any complicated stitch combinations you can sit back and relax as your fingers magically work up this dreamy accessory.
Skill Level
This is a perfect project for beginners. If you can make a granny square, you can make this shawl wrap scarf. With just a few basic stitches you can create this piece. The entire project is composed almost completely with only Double Crochet Stitches.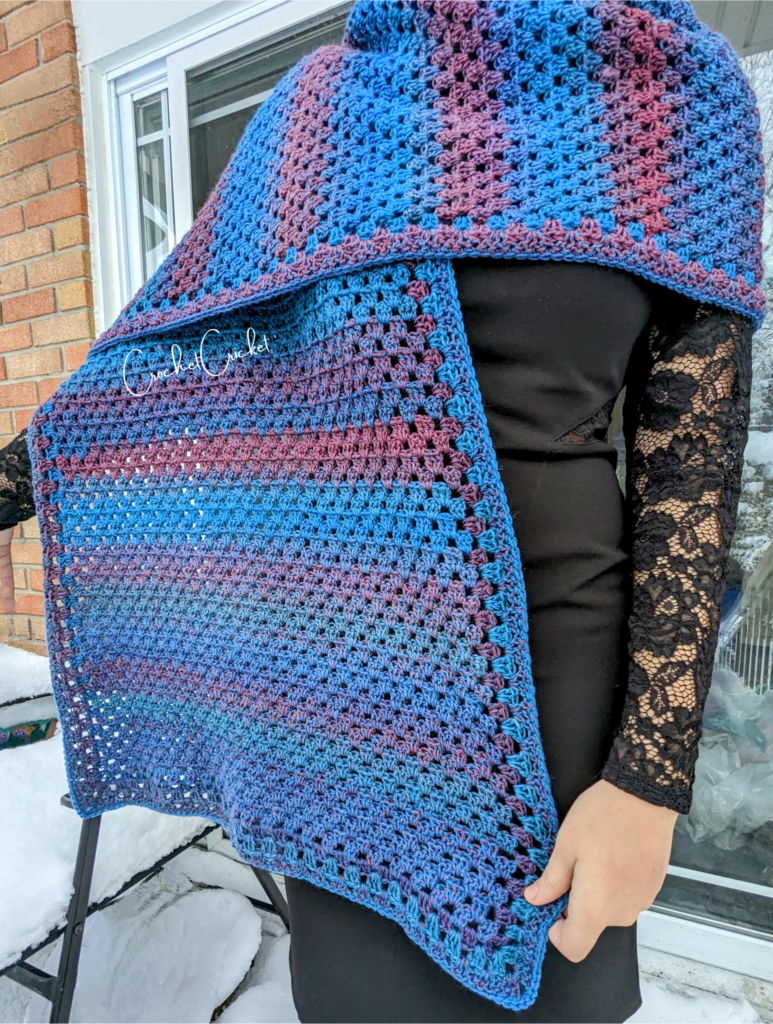 Stitches
ST(S) – stitch(s)
SP – space
REP – repeat
CH – chain stitch
SL ST – slip stitch
SC – single crochet
DC – double crochet
Granny Cluster – made by working 3 DC into the same space
Pattern
Repeat
The repeat for this pattern is a multiple of 3 stitches + 1
*If you are using a different type of yarn please refer above to the "Yarn and Hook Substitutions" section of this post for guidelines on how many stitches to chain for your beginning chain.*
STARTING CHAIN
72 + 1 = 24 granny clusters
Every odd # row will have 24 clusters.
Every even # row will have 23 clusters and a chain 3 or dc bar at each end.
ROW 1
2 DC in 4th CH

the turning CH counts as your 1st DC

Skip 2 STS
3 DC into 3rd chain
REP to last ST
3 DC into last ST
ROW 2
CH 3 Turn
3 DC in the SP between clusters
REP to last SP
1 DC in top of turning chain
ROW 3
CH3 turn
2 DC in the Space
3 DC in each space to end of row
3 DC into last space
Repeat rows 2 and 3 until your project measures the desired length MINUS 1.5″ inches on each end for the border stitches
BORDER
Feel free to follow the video tutorial to see exactly how I created the border stitch for this project.
The border is made by working your final row of granny stripe and continuing along the edge to make a corner in the last stitch with:
2 DC – 2 CH – 2 DC
Continue to work the granny stripe pattern along the length of your work until you reach the bottom beginning row. In the beginning row beginning stitches you will need to create corners by working into the bottom half of the starting stitch on each end with the same corner pattern. When you get back to the beginning you can continue without joining for a second round of continuous granny stripe use the same stitch combination for your corner OR add to it if it is not enough to lay flat. You can increase to 3 DC – 2 CH – 3 DC for example. Pay attention to your corners to make sure they are laying flat and do what is needed.
Your work will dead end at the end of this round. You can now CH3, turn and complete your final round of granny clusters on the opposite side of your work.
At the end of the 3rd round of your granny stripe border will dead end and meet your starting CH 3, work 3 DC into the last space.
CH 1 turn and complete one final round of SC to complete your bord.
Video Tutorial
Thank You!
I hope you enjoyed this Midnight Dream Shawl Wrap Scarf as much as I enjoyed designing it! The granny stripe is really a versatile and fun stitch that can be used to make any number of wonderful creations. The lessons learned in this tutorial can be applied to any number of projects including scarves, cowls, baby blankets and even garments can be created with this stitch!
Be blessed and remember to keep calm and keep stitching!
Share Your Work with our Community
I really hope that you have enjoyed making this project!
I would love to see your work. Tag me!
Facebook – @crochetcircket
https://www.facebook.com/crochetcricket.ca
Instagram – @crochetcricket
https://www.instagram.com/crochetcricket.ca/
Hashtag your work – #crochetcricket
Be sure to let me know how you enjoyed this tutorial and what other content you would like to see posted on my channels in the future. Remember to like, comment and subscribe if you like what you see!
Enjoy !